Will the proposed tax hike affect me?
We close out the month of April today, and we are happy to report that it has been a very good month for the US markets and economy. Today we will share more of that good news and wrap up with advice on how to buy a used car in this tight market.
Stock Market: The S&P 500 is on track for its best month since November 2020, boosted mostly by signs that large-scale coronavirus vaccination programs are helping people return to jobs and normal behaviors after more than a year of restrictions. The majority (87%) of S&P 500 companies are reporting results that are higher than Wall Street forecasts. Caterpillar, for example, reported revenues that were almost 10% higher than forecast, as value stocks continue to outperform other segments of the market this year for the first time in years.
Economy: The Commerce Department said Thursday that the U.S. economy grew at a brisk 6.4% annual rate in the last quarter and is likely to accelerate further as more vaccinations are administered and Covid-19 cases continue to fall in the US.
Meanwhile, German GDP shrank by 1.7%, as Europe's economy slipped into recession in the first quarter of the year, which was widely expected after the third wave of the Covid-19 pandemic struck hard. It is expected that the European economy will recover over the next few months, but Europe will likely lag behind the US and China for at least another year. (MarketWatch)
Biden pounds the pavement for more spending: The Biden administration unveiled the latest prong of his broad domestic spending plan, the American Families Plan, meant to address the nation's infrastructure and education systems, elder care and other topics. The American Society of Civil Engineers recently gave the nation's roads and bridges a C- score and said an additional $2.6 trillion in funding is required over the next decade. The bill is expected to be part of a months-long negotiation with Congress.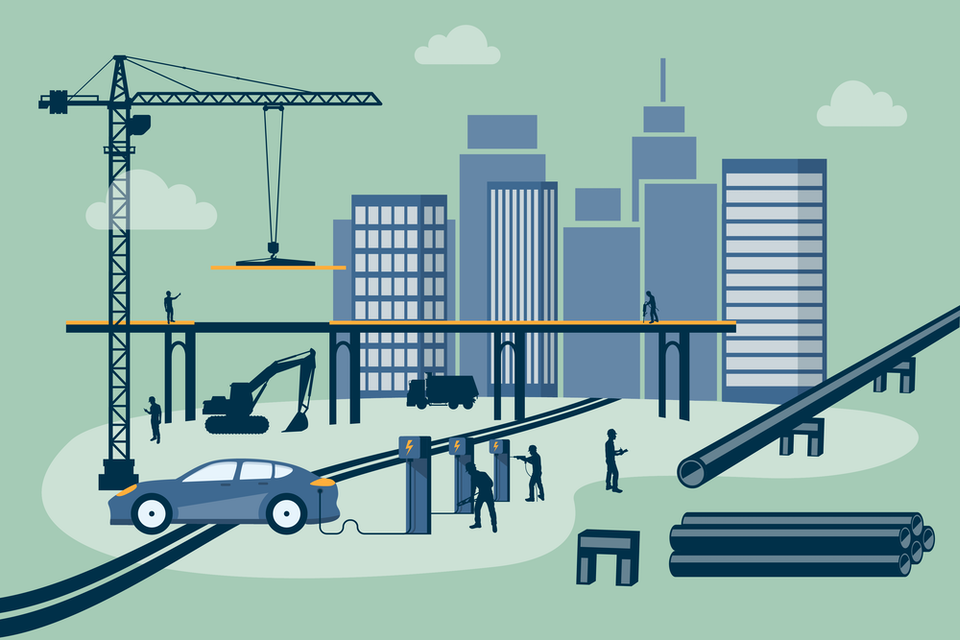 Image: Third Way 501(c)(3)
Tax Increases? Biden's proposal is to pay for the plan by increasing taxes on high earners, but his proposal would only affect those earning more than $1M/year and may well change after negotiation with Congress. CNBC forecasts that fewer than 1% of taxpayers will be affected by the proposed tax increase.
Record high investment in business equipment: Decision-makers large and small are feeling confident enough about the future to put their money into long-term purchases, as seen in the rise in total new orders for durable goods (defined as products expected to last 3 or more years) in March. Most categories of durable goods had a gain in March, and new orders for "nondefense capital goods excluding aircraft or core capital goods," a proxy for business equipment investment, reached a record high $73.2 billion in March. (Read more: Seeking Alpha)
Thirty-year chart of durable goods orders: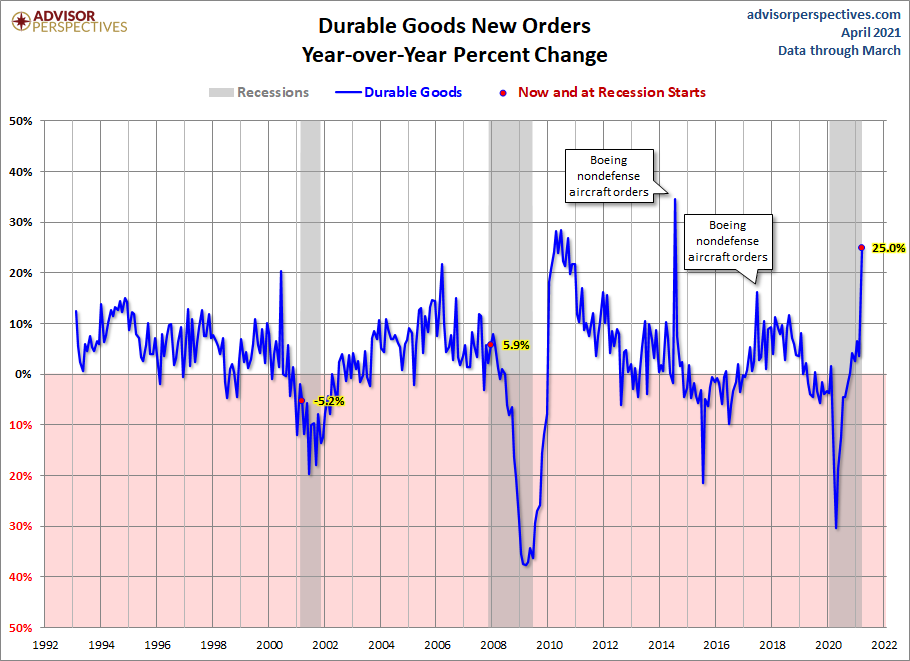 Image: Advisor Perspectives
How to Buy (or Sell) a Used Car in a Tight Market: When manufacturing plants shut down in March 2020, the supply of new cars went down and prices went up. Demand far exceeded supply. That led to fewer new car purchases, thus fewer trade-ins ….and the used car market popped up. Pickup trucks and SUVs are particularly high priced right now, but you can find better deals on smaller cars, with the benefit of higher fuel economy and easier parking! However, if you are not in a hurry to buy a used car, consider waiting until late summer or fall. As new-car inventory ramps up—and especially as the 2022 models hit dealer lots—the number of used vehicles will also increase, and prices are projected to fall. Learn more about where and how to find a good used car right now on Kiplinger.com Getting a Used Car.