Things that should be going up, ARE going up
We welcome this first Friday in April with good news about travel, stock market, job growth, vaccines, Infrastructure Week and... Pokemon! This is the month many families and religious communities will struggle with how to celebrate or commemorate their traditional religious holidays of Easter, Passover, and Ramadan in a safe way. Meanwhile, many of us are spring cleaning, planting seeds and planning vacations, all very welcome diversions after this particularly long winter.
Client Corner: We are happy to announce a new financial advisor to our team starting Monday, Mike Curley! Mike is a CFP® professional with more than 18 years of financial planning experience in the Cincinnati area. Mike believes wholeheartedly in the fee-only and fiduciary duty to which we are committed at Clear Perspectives, and we look forward to introducing him to our wonderful clients. Welcome, Mike!
Next week we will be largely out of the office and taking a break from this weekly email, because we're gathering our team together in person for the first time in 9 months! Plenty of virus precautions will be in place. We are creating our 2021 plan to continually increase our level of service and client satisfaction.
We would love your feedback or suggestions, anonymously if you like. Share your thoughts by clicking here.
Stock Market: The S&P 500 crossed 4,000 for the first time this week as details broke surrounding the Biden administration's infrastructure proposal: a $2T spending plan aimed at everything from bridges and roads to broadband and electric cars. (More on that below.) It was an auspicious start to April, which historically has been one of the best performing months of the year.
The S&P 500 is up 7% this year, but the broad bond market is down, as the benchmark AGG bond fund has lost over 3% year to date, reducing total portfolio returns. When interest rates go up, bond prices go down, and the 10-year yield climbed almost 1% in the first quarter, from .8 to a peak of 1.77% on March 30. This does not mean that bonds should be eliminated from portfolios because they still provide stability and a safe place for withdrawals during a stock market downturn. For our clients, we have switched primarily to shorter term bonds and inflation protected bonds (TIPS), both of which are earning better returns than longer term bonds of any type.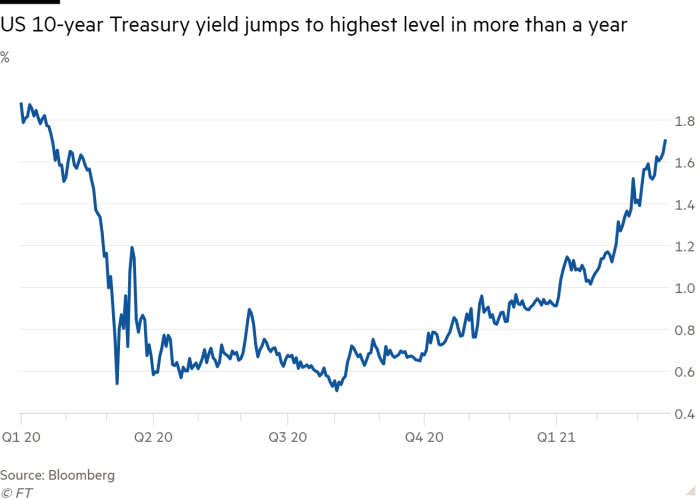 Job growth boomed in March at the fastest pace since last August, adding 916,000 jobs and reducing the unemployment rate to 6%. The surge was particularly strong in hospitality, construction, and education jobs. A more encompassing measure of unemployment that includes discouraged workers and those holding part-time jobs for economic reasons (e.g. caring for children who attend school online) dropped to 10.7% from 11.1% in February; a good sign.
Vaccine Good News: A big part of any stock market optimism this year is, of course, tied to the recession of the pandemic. This past week had several milestones to celebrate: over a dozen states have expanded coronavirus vaccine eligibility to anyone 16 and older, and all states plan to do so by the end of April. (CNN) Pfizer announced its vaccine was 100% safe and effective in a trial of 12-15-year olds, and 91% effective against the South African variant. Almost 3 million doses a day have been administered over the past week. If you or anyone you know is looking for a vaccine appointment, try the tracking website vaccinespotter.org, which helps aggregate open appointments across the country.
Travel Update: The CDC announced today that travel is low risk for fully vaccinated people, if they still wear masks in public. Covid-19 vaccination cards are the only proof of shots, which may soon be essential to travel. The cards are often different across states, and some states have digital databases. Right now there is no central database for immunizations in the United States.
Infrastructure Bill: An infrastructure bill has been discussed for years, with the high cost and how to pay for it always shutting down any agreement. This $2 billion bill creates a broad framework that addresses rebuilding the worst roads and bridges, removing lead water pipes, adding broadband infrastructure in more rural areas, creating tax incentives for companies to support workplace daycare and community colleges, among other projects. The funding primarily comes from increasing corporate tax rates to 28%, about halfway between where they are now (21%) and where they were a few years ago (35%). There is also a proposal to eliminate the step-up in cost basis for estates with greater than $1 million of capital gains on the death of the investor.
Likely to pass: a compromise on the corporate tax rate increase to about 25%, and a tax increase of some kind for the very wealthy, but watch the definition of 'wealthy' increase much higher than the original $400k in annual income that was originally proposed. Joe Manchin of West Virginia is the gatekeeper to what passes, as he is the major swing voter in the Senate. There is no deadline on this bill, and a lot of bipartisan support, so expect many compromises in the details, likely over the summer.
Credit: Joe Raedle/Getty Images
Inflation in the shadows: While the S&P 500 was up 6.2% in Q1, the question on everyone's mind is if inflation will spoil the party this year. Hot inflation has a simple extinguisher—the Federal Reserve can raise interest rates, but that is a headwind against stock growth. The Fed has been clear that they do not intend to raise rates this year, despite inflation estimates for 2021 rising from 2% to 2.4%. With the Fed willing to let inflation continue its controlled burn, the onus is on the economy to grow its way out. Economic growth is a fragile thing in Covid times, but the IMF recently announced it was upgrading its US forecast for 2021, which means they expect GDP growth above the 5.5% estimated in January.
Gotta catch 'em all: Those of you who had children growing up in the 1990s may remember the Pokemon craze: a franchise of cute, collectible monsters that came in TV shows, video games and playing cards. Pokemon trading cards have recently reached Bitcoin-esque levels of speculative value, currently fetching more than $300,000 from collectors. Makes you want to check that closet of junk your kids never took with them...