Why does the concentration of the S&P 500 mean I'm getting phone calls?
The economy is growing and so are vaccination rates! We welcome the weekend to savor that good news this spring. Today we share why your IRS refund might be delayed and why T. Rowe Price might be calling you. We wrap up with the news that cicadas will be coming above ground in midwestern backyards this next week, for the first time in 17 years. There will be no weekly email next Friday (April 23) because our quarterly newsletter will appear in your mailbox next weekend instead, along with the 2021 tax card.
Stock Market Update: The stock market inched ahead to fresh records amid strong blue-chip earnings reports. Banks and other financial companies led with strong earnings, as they release reserves for bad loans that never materialized. (Read more here: WSJ)
Employment is growing: Jobless claims are at their lowest point since the pandemic began, falling to 613,000 new claims last week. That is a 20% decline from the week before, giving more reason to believe the recovery is picking up steam. Retail sales were up nearly 10% in March over February, suggesting that growing vaccination rates and individual stimulus checks are boosting consumer spending as hoped.
Vaccination rate is growing: Many states have achieved an almost 50% vaccination rate. More than 3 million vaccinations a day have been given for the past 10 days. (Read more here: CNBC)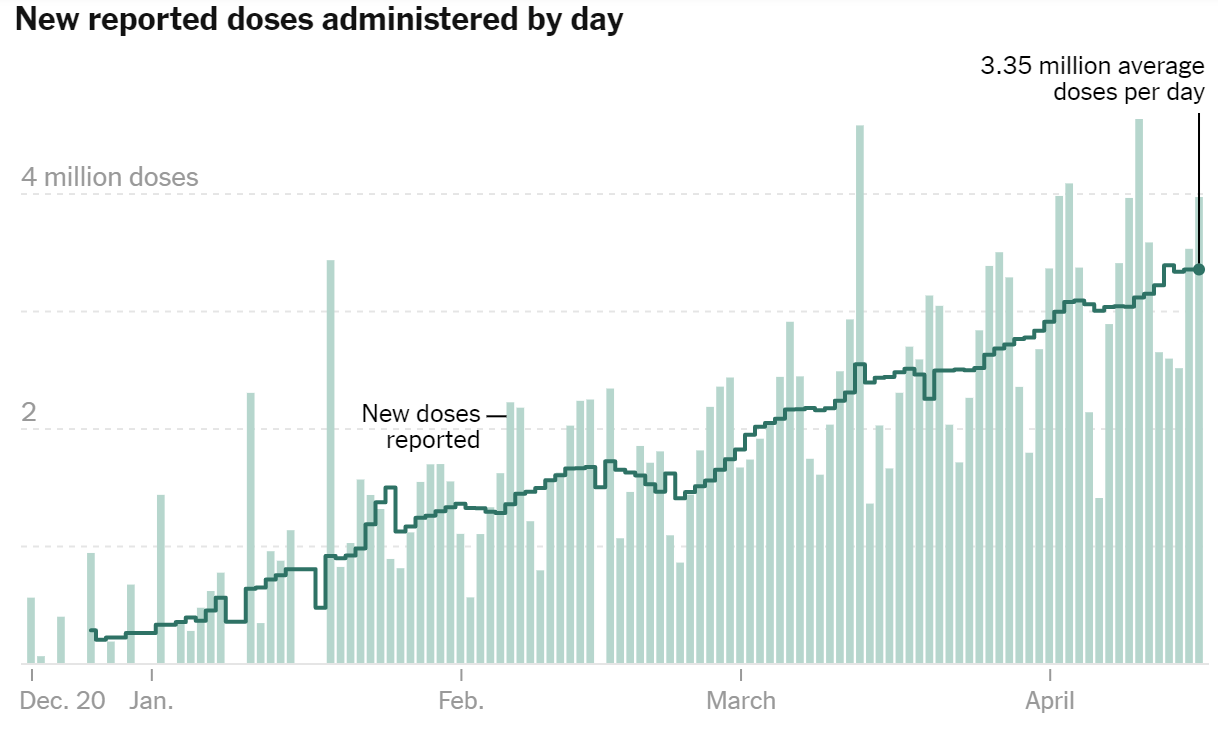 Geopolitical risk resurfaces: It has been a while since world powers argued so forcefully about something not pandemic-related, but that's what happened this week when the Biden administration announced a series of sanctions against Russia to reprimand a list of alleged "malign actions," which include the significant cyber-hack of government and private company computer systems last year, called Solar Winds. (Read more here: BBC)
Perhaps the most serious volley was increased limitations on how U.S. banks can invest in Russia's bond market. Firms can no longer buy Russian debt in their primary market, but the real damage to Russia's economy would come if the U.S. restricts purchasing these bonds on the secondary market as well. That may be the implication Biden's administration was making as both countries consider a summit to address their differences. As a rebuttal, Russia today asked 10 U.S. diplomats to leave the country and warned the U.S. to rethink its "anti-Russia" stance.
Why is T. Rowe Price calling me? You can safely ignore any phone calls you may have received from T. Rowe Price recently (and thank you to the client who mentioned this was happening!). The calls are going to current shareholders about an upcoming vote on how a handful of funds are managed. The calls will stop after the vote on May 26 (or you may cast your vote to end them, but it is not required).
The longer explanation is that the fund managers at T. Rowe Price are getting approval to reclassify several of their funds as "nondiversified" so that they may continue to hold higher percentages of a handful of growth stocks that have grown over the pandemic. Shareholders can vote to grant their recommended change or reject it.
T. Rowe Price is adjusting their rules to accommodate the higher concentration in the S&P 500 that has happened in the past 10 years. Since the S&P 500 is 'market cap weighted', the larger a company gets, the greater its representation in the S&P 500. While we still hold the S&P index as well as well as value and growth funds in your portfolio, we are counter-balancing this effect with funds such as the equal-weighted S&P 500 index fund RSP (which redistributes assets equally across the entire S&P) to ensure your portfolio is appropriately diversified.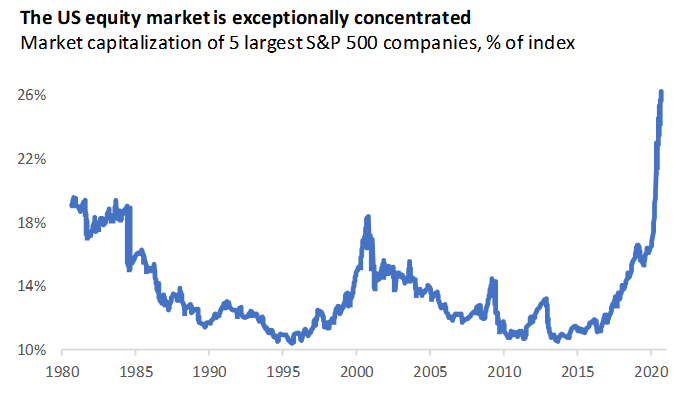 Client Corner: Have you filed your 2020 tax return and the refund is taking longer than usual to arrive? If so, it's possible that you were randomly selected as part of the Taxpayer Protection Program (TPP). Due to a system error with the IRS, the mailings that explain your next steps failed to get mailed out. If you think this might be affecting you, as it did one of our own staff, it's worth calling the TPP directly at 800-830-5084 to confirm. The IRS is under enormous pressure from Covid and the shifted tax deadline— so you could simply be in a long queue waiting for your refund to be processed.
Brood X emerges from its 17-year slumber: Right on time, we are noticing perfectly round holes appearing in our yards across Cincinnati this week. Billions of cicadas in the 17-year Brood X (that's ten, not the letter) will soon emerge and fill our yards this May with a cacophony of humming that will reach triple-digit decibels. They are harmless to animals (which is good, because your dog will eat them), but think twice before planting young trees this spring—the cicadas will lay eggs on young branches which will then hatch and feed on the twigs before retreating into the ground until 2038.
We wish you a wonderful spring weekend!