Record number of people traveling this weekend
Happy Memorial Day Weekend! While we are excited for the unofficial start of summer, this weekend stands in remembrance of America's fallen servicemen and women. We are grateful to them and their families. Today we share some good economic news during this very slow week in the markets, along increases reported in inflation and consumer spending.
Market Update: Investors and traders are looking toward the long weekend, so trading volume was very light this week. Without any new catalyst, the S&P 500 gained 0.65% this month, bouncing around a tight trading range. The federal reserve is 'talking about talking about' reducing their monthly bond purchases, which will likely mean interest rates will increase slightly sometime after the Fed's annual Jackson Hole meeting in August. We are keeping a close eye on the speed of any interest rate increases and inflation.
Good Economic News: Jobless claims hit new lows, and the durable goods report (which covers business investment and spending) was stronger than it appeared. We always look at the details of these reports: durable goods were negatively affected by airplane orders, but the underlying data for business investment increased by 2.3%. March data was revised higher as well after more information came in. Business spending has remained strong throughout the pandemic.
U.S. Personal Spending: Consumer spending rose at a steady yet moderate pace in April, consistent with sustained growth in personal spending, which makes up the largest part of the GDP.

Core Prices Jump: The personal consumption expenditures (PCE) core price gauge, which is a measure of inflation that excludes food and fuel, showed the biggest monthly advance since 2001. The PCE increased .7% in the latest report through March, exceeding expectations.
Bitcoin Losses Deepen: Bitcoin continues to show extreme volatility. Bitcoin's weekend trading is especially volatile, and trading volumes are very thin, which exacerbates the big moves. Bitcoin is down 44% from the April peak of $63,000. More broadly, the threat of tougher regulation continues to be a drag on crypto market sentiment.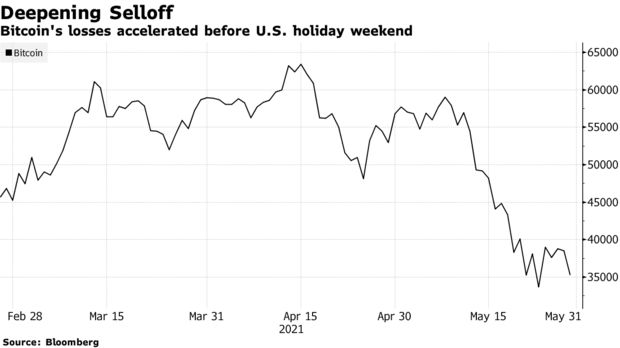 Record number of people traveling this weekend: 37 million Americans are expected to travel 50 miles or more from home this weekend, an increase of 60% over this time last year. The CDC recently announced guidance that fully vaccinated people can travel domestically at low risk to themselves, while taking proper precautions. At the same time as everyone takes a road trip, we're also seeing the highest gas prices since 2014. The national gas price average has stabilized at $3.03 a gallon, which is $.17 more than last month and $1.12 more expensive than last year during the pandemic. Try AAA's gas cost calculator to find out how much your road trip will cost.