Major moments in Black finance history
As we close out the month of February, we celebrate the accelerating distribution of the Covid-19 vaccine, and we remember the 500,000 people who have died from Covid-19 over the past year. We share what is driving some market volatility and how to tell if you will get the lucky federal check from the relief bill. Cryptocurrency has had a wild ride, with big gains and big losses this month, more on that below. We wrap up Black History Month with a chart of historical breakthroughs for Black leaders on Wall Street. Finally, some solid information from Kiplinger on 10 Things You'll Spend More On In Retirement for your weekend reading.
Market Update: The S&P 500 lost less than 1% this week, and is still up 4% year-to-date (ytd). What has been driving the recent stock market volatility? The bond market! Longer term treasury bonds saw yields increase about 50% this month, which sounds like a lot but we are talking about an increase from 1.09% yield to 1.54% yield as of yesterday. These are still very low numbers. Rising yields tend to make stock market investors nervous, because it means the market is pricing in higher inflation, which is bad for bond investors, but the good news is that the higher bond yields are also an indicator of strong economic growth in the future.
Remember that the Federal Reserve controls the short-term bond interest rates and is keeping those rates down to boost the economy. The bond market investors control the interest rates for the longer-term bonds. This range of volatility on both stocks and bonds is normal, and we expect the stock market to settle down a bit as the relief bill gets passed.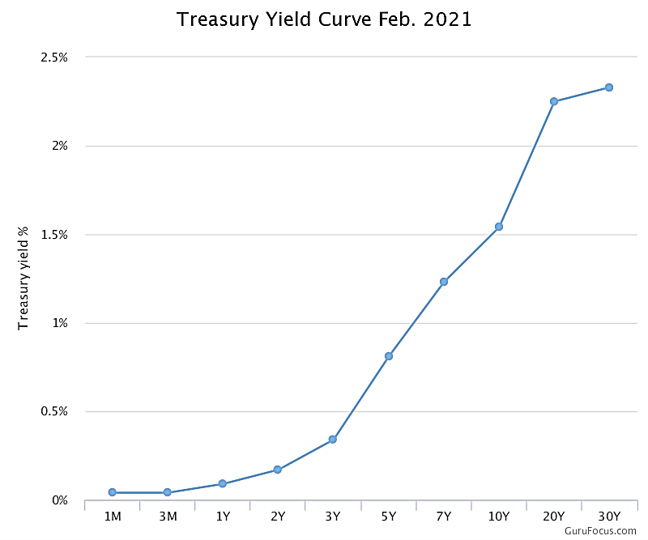 Many of our P&G clients have noticed the stock has dropped about 8% ytd. Diversification is helping offset much of that loss across your portfolio, and the stock tends to improve over the course of the calendar year, peaking in November or December, so this is not unusual.
Cryptocurrency is struggling this month too: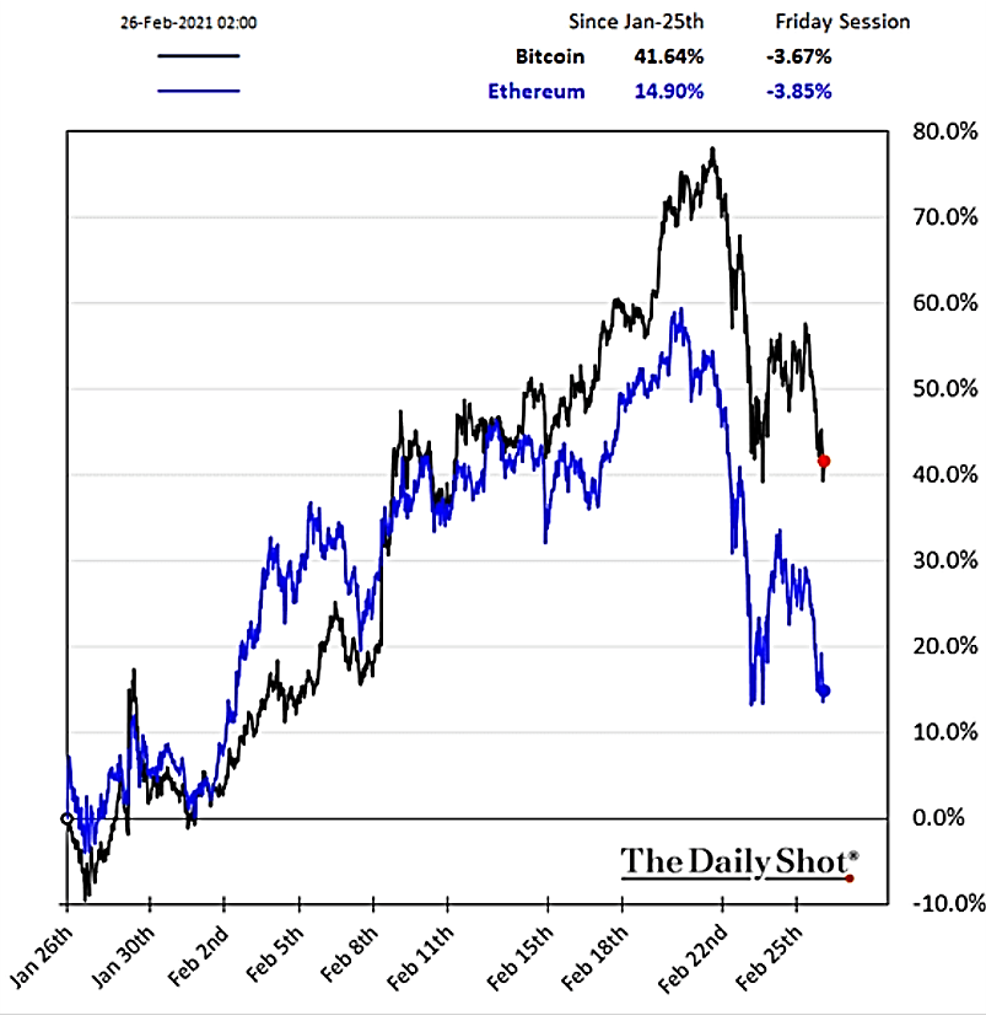 Relief Bill Updates: The House is poised to vote on the $1.9 trillion relief bill, with provisions for new federal payments, but likely without the increased minimum wage provision. Whether or not you receive a payment depends on your adjusted gross income, or AGI, not necessarily your total income. The latest relief package includes $1,400 payments for individuals with an adjusted gross income up to $75,000. Married couples with AGI up to $150,000 will receive $2,800. There are a slew of AGI calculators available for free online that can do the math for you if you feed them the requisite information, including this one from the TaxAct Blog. (CNBC) If you want to know whether you should file your tax return early or late to best maximize your check, Kiplinger covers the rules.
Infrastructure Bill: Passenger rail could be a big winner if Congress moves ahead with President Biden's ambitions infrastructure plan. There is bipartisan support for rebuilding America's crumbling infrastructure, and high speed rail plays a much larger part in other developed economies. In Charlotte, for example, where 400,000 new residents are expected to move by 2040, light-rail plays a critical role in an ambitious transportation plan. Other plans include Florida and California high speed rail systems. The plan also includes immediate road and bridge repairs.
Vaccine News: Nearly 20% of U.S. adults have received at least one dose of the Covid-19 vaccine. The vaccine rollout has been dealing with a few setbacks as a result of the extreme winter weather last week. But starting next week the federal government is ready to send out 14.5 million weekly doses to states. The US now has secured enough doses to fully vaccinate all interested adults by the end of July.
We are always interested in history we missed. So as we wrap up Black History Month, we share this timeline of major moments in Black financial and economic history from scholar Gregory Bell (image by Ally Bank):
Gregory S. Bell, In the Black. A History of African Americans on Wall Street. John Wiley & Sons, New York, 2002.
Finally, as springtime and vaccines make us dream of eating in restaurants, vacations and travel again, here is a great article from Kiplinger's on 10 Things You'll Spend More on in Retirement for your weekend reading!
Stay safe, we are looking forward to seeing everyone in person again someday soon!