Lots of opportunities for teen job seekers
Markets ended up on a high note this week, rising about .5% on a good but not stellar jobs report. Meanwhile, the infrastructure stimulus bill continues to be negotiated in the Senate, and we wrap up this week with the good news that teenage job seekers are finding lots of opportunity!
Here is this week's news:
Economic Update: American consumer spending has met or exceeded pre-pandemic levels since the start of 2021, with outlays beginning to shift away from goods (buying patio furniture online, for example) and into services (booking vacations and restaurant meals) as Americans resume everyday activities. Shortages in imported raw materials and finished goods have stymied many people's home improvement plans so people are traveling away from home this summer. (Click to read more: Wall Street Journal)
U.S. employers boosted hiring in May, but not enough for the labor market to keep pace with an overall economy that is heating up as the pandemic continues to ease. Payrolls grew 559,000 last month, up from a revised 278,000 in April. Payrolls remain 7.3 million employees lower than they were before the pandemic: in the chart below, the dotted line for May 2021 is below the solid line marking January 2020 levels. The unemployment rate fell to 5.8% in May, from 6.1% the previous month.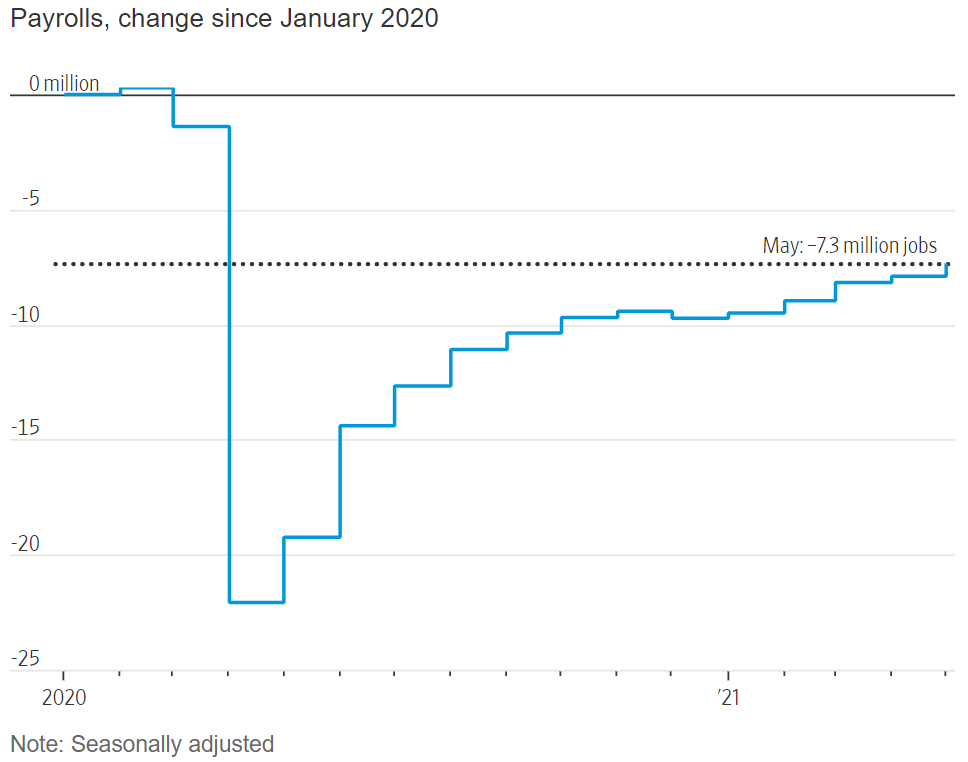 Good News: Covid-19 cases have hit their lowest point in the United States since the pandemic began. In the chart below, the swathes of green mean cases declining in nearly every state. Axios, which has created weekly visualizations for over a year, says the virus is now so well-contained that "this will be our final weekly map." What a milestone! (Click to read more: Axios)
Final weekly map tracking the decline of Covid-19 cases in the United States: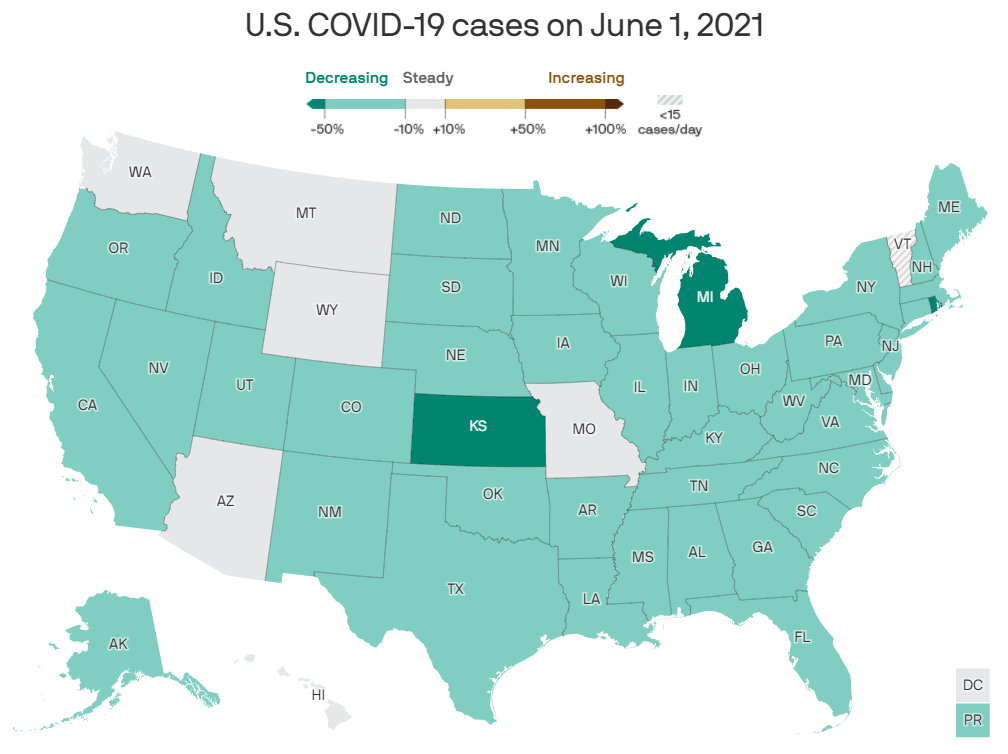 Left out: The pandemic isn't over for everyone, however. Those who lost loved ones or are dealing with long-term symptoms will live with aftereffects of the pandemic for a long time. Unvaccinated children are an especially big concern as their numbers of COVID-19 cases rise and day care, camps and schools reopen to allow parents to get back to work. CDC director Rochelle Walensky urged parents today to get their kids 12 years and older vaccinated against COVID-19. "I am deeply concerned by the numbers of hospitalized adolescents and saddened to see the number of adolescents who required treatment in intensive care units or mechanical ventilation," Walensky said in a statement. (Click to read more: Axios)
Endless Summer for working teens: As we all emerge from our bubbles into the warm summer, no group seems better poised to benefit from staffing shortages than teenagers. With fewer health concerns and childcare issues to work out, teens are snapping up higher wage retail and service jobs this summer that would usually be filled by adults, as businesses strive to attract workers. One example is Kings Island, the amusement park icon of the Cincinnati area, which is offering $18 an hour to many seasonal employees. (Click to read more: NY Times)
Click here for 40 summer job ideas for teenagers & college students.

Teens are enjoying the work experience and long-awaited increase in jobs and rise in pay, but experts caution that many teens need summer classes to stay on track for graduation. Study after study has shown that those who graduate or complete post-school training earn more over their lifetimes than those who don't.