One year later, a light at the end of the tunnel?
It's hard to believe it has been nearly a year since a 100-year event pandemic spurred our first weekly email to clients, friends and family. Since then, we've found we really like staying in touch with you this often and we've heard many of you feel the same.
Our letter has evolved into more of a general market and news update, often including the impact of the pandemic on the economy. Today we will be sharing the pandemic news driving the markets, and a market update. And then we hope everyone can grab your favorite beverage and bask in a little sunlight this weekend!
The State of our Union: One year ago this week Covid-19 caused a cascade of cancelled events, a bear market, 'work from home' became the norm, and we all scrambled to find masks and hand sanitizer. A full year later, 20 million Americans receive some sort of unemployment benefit. Many children are still attending school remotely.
It's not over, but we can finally see the light at the end of the tunnel: About 20% of the population has received at least the first dose of the vaccine. The President asked states to open vaccines to everyone by May 1. (WhiteHouse.gov) The U.S. is now administering over 2.2 million shots a day, and the numbers are accelerating daily. See where your state stands in the map below. (CDC)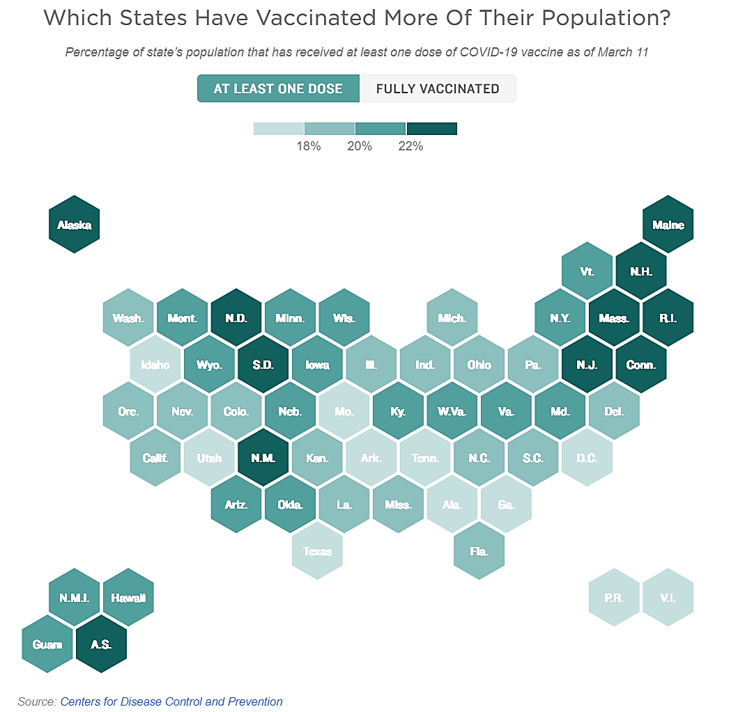 Market update: As expected, the markets responded positively to the stimulus bill as excitement builds for the economy to reopen. All three stock benchmarks are on track for big weekly gains, with the Dow gaining 3.6% this week, the S&P 500 grew .3% and the Nasdaq Composite advancing 1.2%. The Dow Jones average is on track today for its sixth straight gain, while tech stocks have bounced around after the Nasdaq entered correction territory last week with a 10% decline off February highs.
The rise in long-term Treasury yields has signaled the buoyant economic outlook, an environment in which stocks more sensitive to the ebbs and flows of the economy tend to thrive. This means value stocks are outperforming growth stocks for the first time in years. As the WSJ headline said, "'Sell Tesla, Buy Exxon' Explains the Market" (WSJ):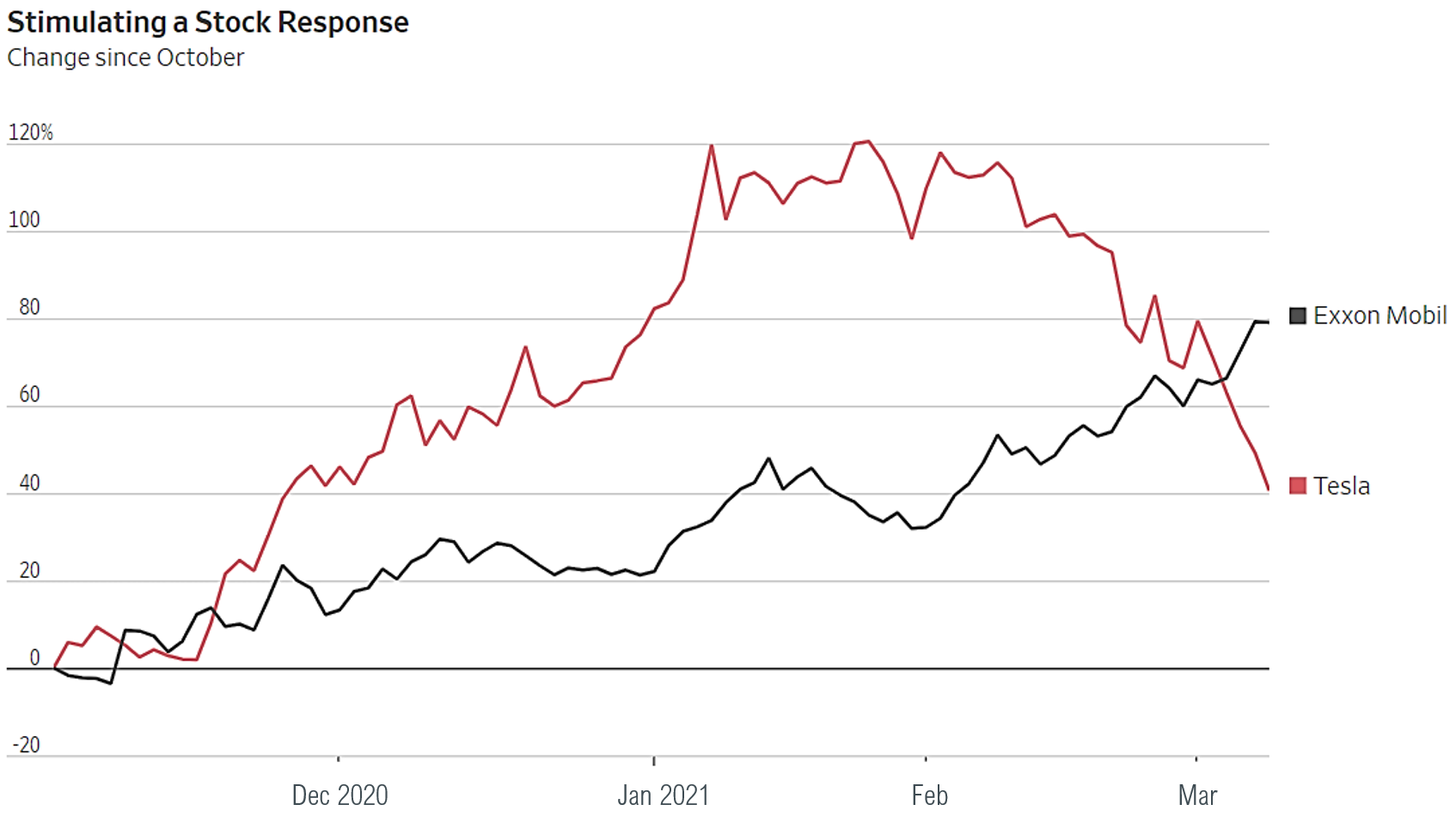 Stimulus update: President Biden signed the stimulus bill yesterday. The list of what was included is linked below, with greater emphasis on helping very small businesses compared to the last round, getting children back to school/childcare assistance, and improving health care availability during the pandemic and this high unemployment period. Individual stimulus check eligibility was also tightened.
Read the summary of the Coronavirus 2.0 plan details at CNET Personal Finance.
Notably, some widely discussed potential changes were not passed, including further relief on Required Minimum Distributions (so RMDs are required this year), no forgiveness of student loans, and no increase to the federal minimum wages.
Biden's signing serves then to codify codifies most of what investors have been anticipating for months now. But it also acts to remind both investors and the public of why this market rally has been so persistent. In the face of an unprecedented threat, central bankers, lawmakers, and two presidents have stepped up to act forcefully in support of this economic recovery.
Housing shortage: The combination of work-from-home, remote schooling, record low interest rates, baby boomers staying put, and a supply shortage of raw materials have led to a severe shortage of homes for sale. Soaring prices for wood have lifted the average price of a new single-family home in the U.S. by more than $24,000 since April, according to the National Association of Home Builders.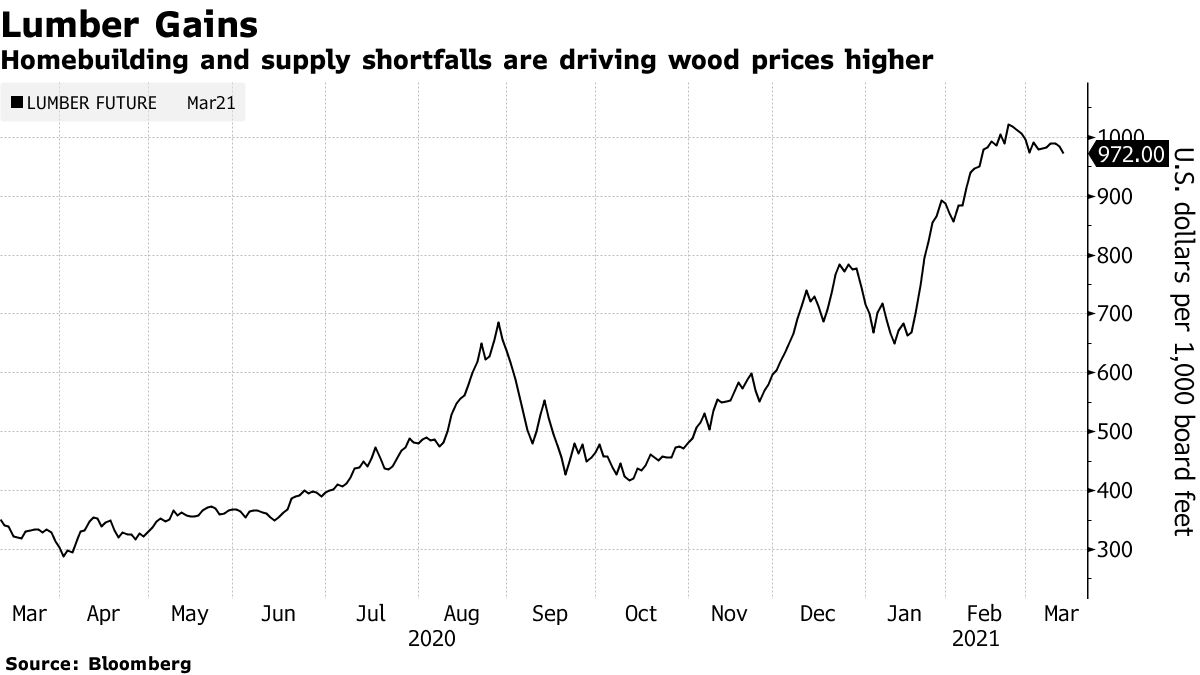 The lumber industry has now asked for Commerce Department intervention to address 'skyrocketing' lumber prices and supply constraints they say endanger economic recovery and housing affordability. They have requested an examination of the lumber supply chain, identification of the causes for high prices and supply constraints, and immediate remedies that will increase production. (Bloomberg)
Blast from the past: Comic book publishers like Marvel and DC sit on a treasure trove: thousands and thousands of comic book characters, many of which are household names... but not all. Planet Money has a 3-part series about their attempt to buy an unused superhero from the Marvel archives. Check out part 1 here.