Implications of a flat jobs report
We are on cicada watch here in Cincinnati, as they're expected any day now for their emergence 17 years after this brood was last seen. Today we share how to take the latest jobs report, good news on the Pfizer vaccine, an explanation on a chicken shortage and global pandemic leadership. If you are longing for a Caribbean getaway, the islands of St Kitts and Nevis want you!
Market Update: The S&P 500 reached a record intraday high today and value stocks continue to outperform growth stocks this year, for the first time in many years. The "bad news is good news" theme drove stocks higher as payroll gains for March were revised lower and the unemployment rate unexpected increased to 6.1% (vs. the 3.5% pre-pandemic unemployment rate). The market interprets slower growth as good news because it becomes less likely that the Federal Reserve will raise interest rates. Federal Reserve Chair Jerome Powell has suggested he would want to see a "string" of strong payroll gains totaling more than 1 million before raising interest rates, which has clearly not happened yet.
Jobs: Economists expected a booming new jobs report this morning and were disappointed to find the opposite, with only one-quarter of the new jobs materializing compared to the figure that had been forecasted. This highlights that recovery from the pandemic will happen on many axes at different times: the stock market, consumer spending, and employment numbers won't (and haven't) recovered at the same rate. In addition, the historical relationships between economic indicators may have shifted due to changes in the way the economy works now, which means we may have to gather more data before any realistic predictions can be made.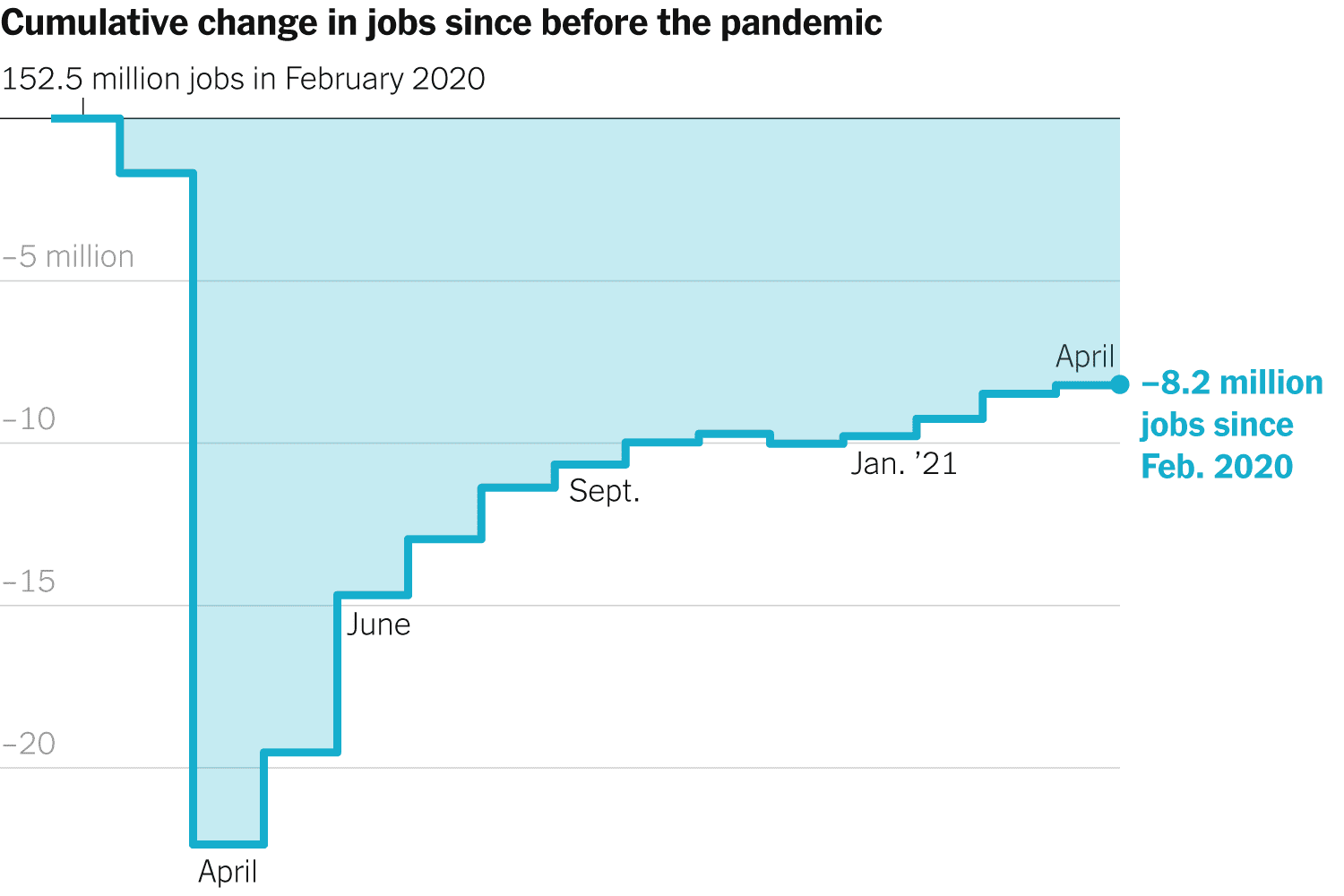 Image: New York Times
Caring for Labor: Paid time off in the restaurant industry was rare before the pandemic, according to the WSJ, but the pandemic has forced a reckoning. More restaurant owners are now giving workers paid time off and offering health insurance to staff, resulting in a 5% increase in total revenue allocated to labor.
Why is it harder to buy...
Chicken: Restaurants are running out of chicken and supermarkets are raising prices. Earlier this year chicken was stockpiled in cold storage facilities and skinless chicken breast average $1/lb. Now the same product has doubled in price as restaurants have recovered, and chicken suppliers are pondering raising their pay to compensate workers for the tough conditions and fears of Covid-19. (Read more: WSJ)
Semiconductors: Semiconductor companies are struggling as supply-chain constraints on chips have reduced the availability of everything from cars to laptops to gaming consoles. The simple reason is that making chips is very difficult and getting tougher: It takes a lot of time and money to build a factory and manufacture a chip. This means there are few upstart competitors innovating or able to fill the void. Expect a shortage in appliances, cars, computer monitors and speakers as demand for these products ramped up in the pandemic while supply chains grow tighter. (Read more: WSJ)
Pfizer shot works well on variants: The Pfizer-BioNTech vaccine is extraordinarily effective at protecting against sever disease cause by two dangerous variants, according to two studies published Wednesday, based on the real-use vaccinations in Qatar and Israel. (Read more: New England Journal of Medicine)
Vaccine incentives to encourage attendance: The NFL has offered 50 Super Bowl tickets to fans who share their stories of why they wanted to get vaccinated. The Mets and the Yankees will offer fans a free ticket if they get an on-site J&J vaccine shot, and Rowan University in New Jersey is offering $1,000 off room, board and tuition with proof of full vaccination. (Read more: CNN Health)
Still in a pandemic: The world is opening up to vaccinated people, but that doesn't mean the pandemic is anywhere near over. More Covid-19 cases had been recorded globally over the last two weeks than in the first six months of the pandemic, the World Health Organization reports. The U.S. doesn't feel this right now because it's driven largely by a huge surge in India and the ongoing onslaught in Brazil. (Read more: Axios)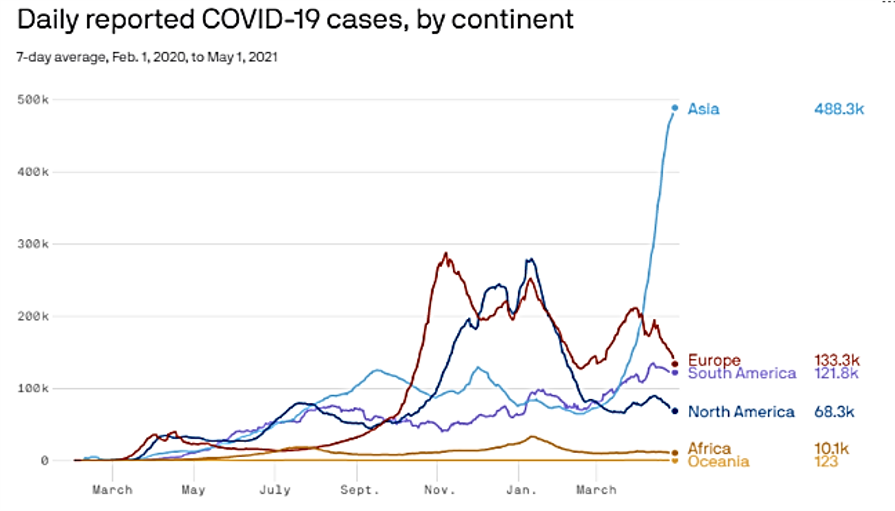 Caribbean Cruise: The islands of St. Kitts and Nevis will be open for cruise tourism beginning in July. St. Kitts and Nevis have had massive success with managing the spread of Covid-19 on the twin islands. It is one of the few nations that recorded only 44 cases, with no deaths and no community transmissions. The island's borders have been open since October of last year, with strict testing and quarantine procedures in place. They hope to be able to open up for full-scale tourism by October, a plan that depends on vaccinations. (Read more: Cruise Hive)