Big tech's dominance is fading
Lots to share this week, including a new strong jobs report, vaccine news, and we answer why the stock market rally stalled.
Market update: On Monday of this week, we saw the best gain in the market since last summer, following approval of the single-shot vaccine by Johnson & Johnson and the new stimulus package passing the House.
Lots of volatility continues though, as bond yields continue to spike upward, reflecting a combination of increasing consumer demand for goods and services leading to strong economic growth, along with expected inflation. High demand matched with low supply from supply chain issues drives prices up further.
The market swings between exuberance (today and last Monday) and a lack of confidence in between. We continue to expect a lot of volatility, with most stocks likely heading upward after the Senate passes the stimulus bill. The stock market likes stimulus, because it can help further increase GDP growth. Dividend-paying stocks may not get quite as large a benefit however, because the rising bond yields make bonds a substitute for dividend paying stocks.
Big Tech struggles: You may have noticed that tech stocks (purple line below) have struggled the most this year, after being the darlings of the past decade. The valuations of the top tech companies (Microsoft, Apple, Amazon, Alphabet and Facebook) have grown ever higher, exacerbated by index investing, which weights the larger companies more heavily in the indexes (called 'market cap weighting'). The more people buy the market cap weighted indexes, the greater the number of shares of the most heavily weighted companies' stock are also purchased. This creates an increasing price loop in these stocks.
The valuations may have reached their peak already as new risks become apparent for technology stocks: greater regulation in Europe has already begun, rising costs are reducing profits, and pressure to move more production to the US may exacerbate that trend.
The graph below shows QQQ in purple for tech stocks and SPY in blue for the S&P 500 (of which 25% is now in the tech stocks listed above). The good news is that the equally weighted index RSP (green line) shows that all parts of the economy are participating in the recent economic growth!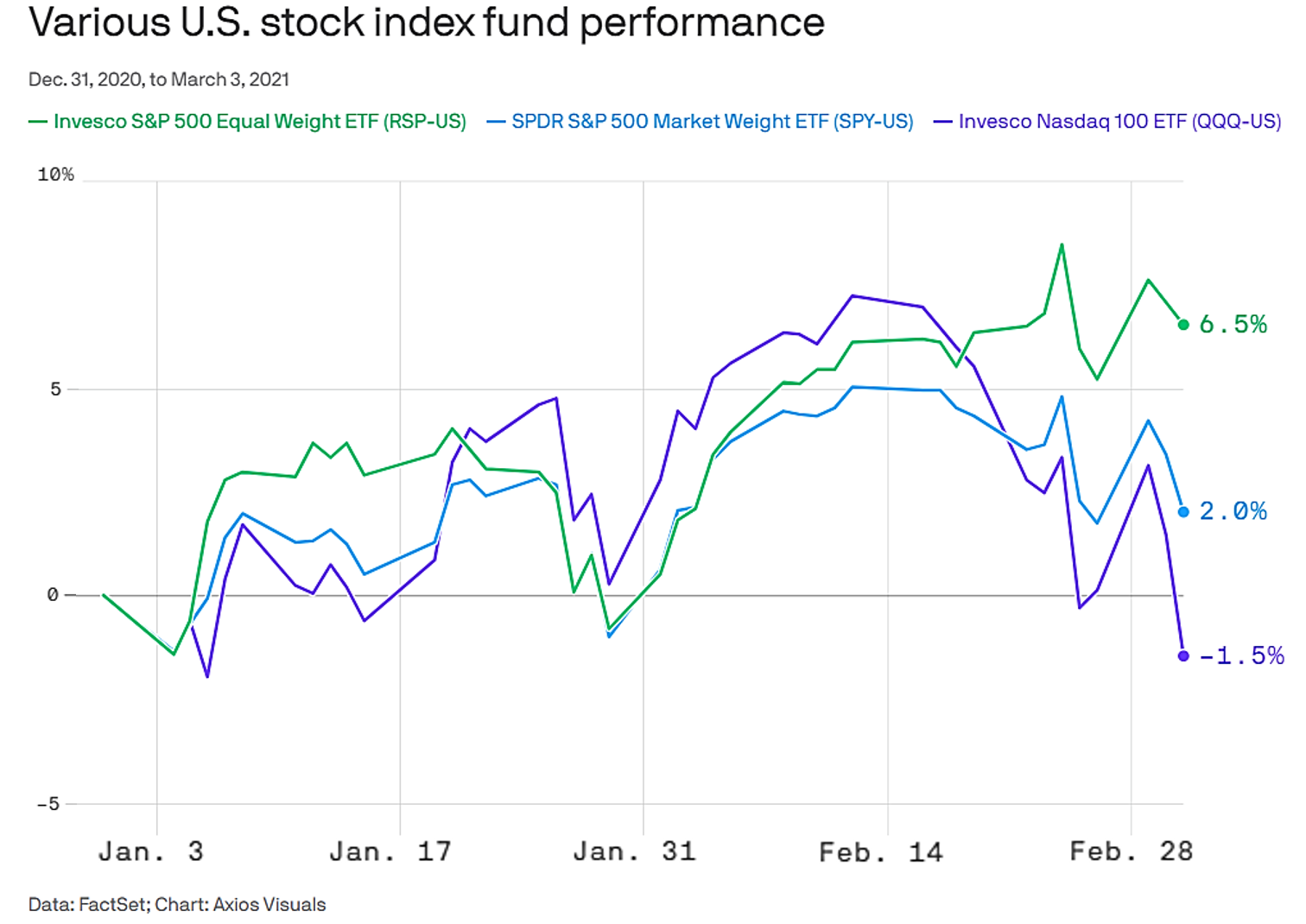 Jobs, jobs, jobs! The jobs report included a pleasant surprise today as the long-awaited increase in hospitality hiring is happening. The U.S. added 379,000 jobs in February with most of the gains coming in bars and restaurants as industries prepare to reopen with better weather. This is great news overall.
However, we are keeping an eye on the 9.5 million fewer jobs today vs. pre-Covid. The leisure and hospitality industry in particular remains behind, with 3.5 million fewer jobs today than it used to have. The chart below visualizes this industry's stalled recovery.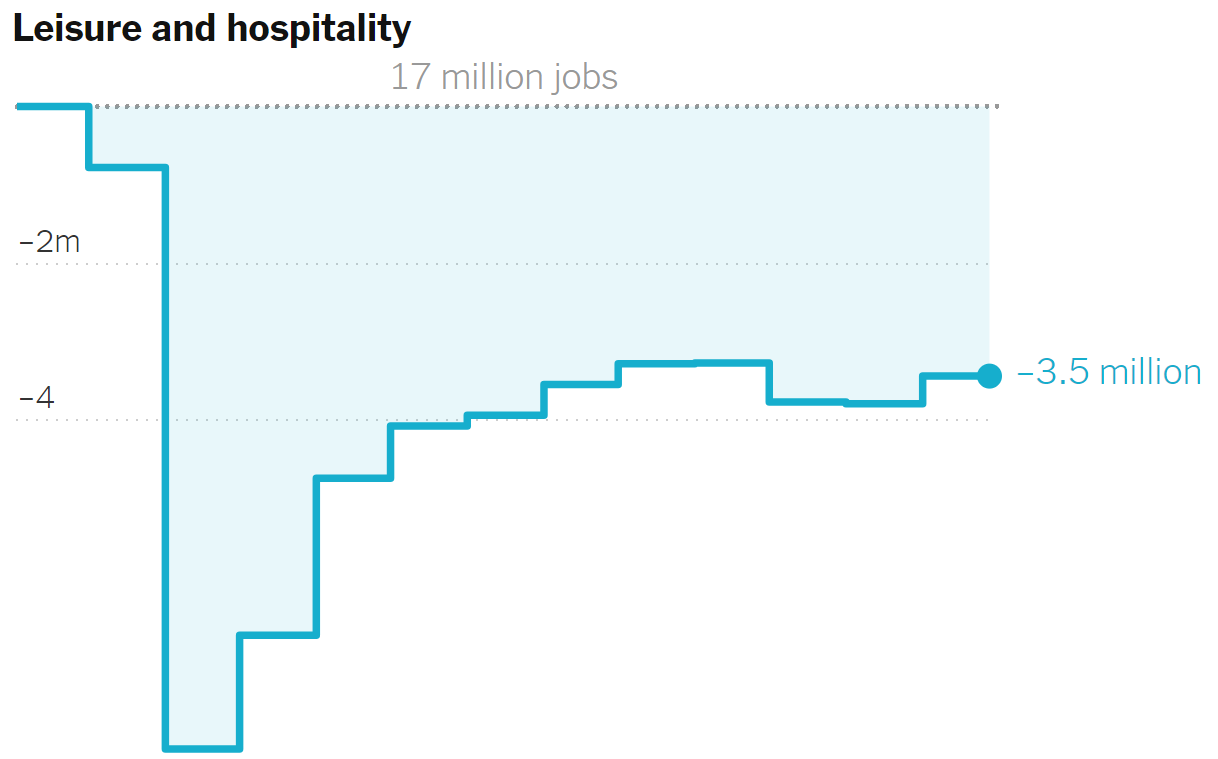 In addition to certain industries, some groups of people are still far behind in their jobs recovery, particularly women and minorities. Many people in these populations continue to be sidelined from the working world due to child and elder care responsibilities, health concerns, and having been in volatile lines of work like restaurants. Schools need to reopen to free up the majority of this population, and that requires vaccination of teachers and administrators.
Vaccine update: Vaccine distribution has accelerated, and target populations now broadly include age 60 and up in many states. Merck and J&J formed a new partnership to allow faster filling of vials and packages, increasing the speed of shipping the vaccine out the door. Giant distribution sites are now open (including Northern Kentucky Convention Center) and the J&J single shot vaccine is being targeted for rural areas that are less able to manage the freezer requirements and longer distances for patients to travel.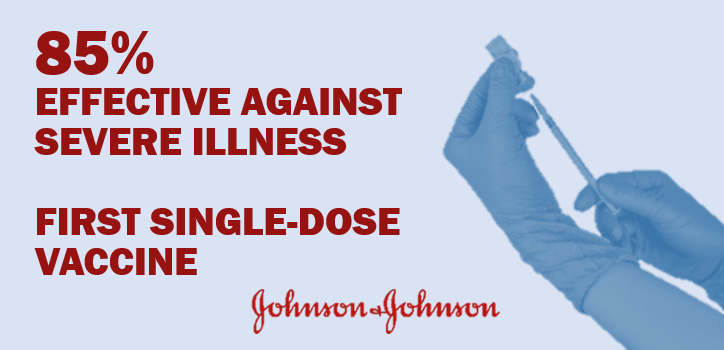 Virus variants can still ruin the summer if people let their guard down, and it will be important to continue using masks and practicing social distancing until widespread vaccination has reduced transmission rates. Spring always brings hope, however, and we are feeling hopeful as the vaccine distribution continues to open up.
Enjoy the new signs of spring and have a lovely weekend!
Your Clear Perspectives Team